This review is a little different than my usual mission reviews. This mission is not one you will find in the Top Echilon of missions with dozens of plays. What is unique about this story, is that is was completely written and constructed by an  8-Year old boy. I have played many Foundry missions since it's inception, but have never experienced one created by someone so young. What is impressive to me about this story is that although it is not an epic story with overly complicated maps or unique triggers, it has all the things you would expect to see in a Star Trek Online mission. I hope you will show support for our younger generation and give his mission a try. It will surprise you what can be accomplished with some computer savy and skills, especially at such a young age.  

Duke-of-Rock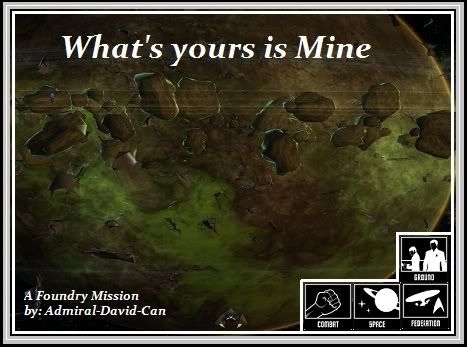 Mission Title:   What's Yours is Mine
Author:   Admiral-David-Can
Project ID:   ST-HFV59Y2QF
Allegiance:  Federation
Level:  Level 16+
Starting Location:   

Agrama System – Alpha Centauri Sector
 Author's Description:   Captain, we have a situation in Romulan space. The romulans are once again studying a Borg probe to gain access to their pure tech. They have took it too far, and I want you to stop that. They shall not be allowed to unite against us with Borg Technology. They once used Subspace Weapons against us, we stopped them. Now it's time to do the same thing in a completely different way.
Overview:  A very creative combat scenario with a quick, easy to follow story. It has enjoyable combat, much like you would experience playing the regular Romulan missions in the game itself. It is always fun to destroy Romulans, and this mission was created with a short story thrown in as well. It is also a good mission to gain a few accolade points for combat against the Romulans, both in space and on the ground.
Locations:   The maps in this mission are not overly complicated, but suit the scenario well. This young author chose a location that is well suited for the the space combat, as well as a nice visually pleasing ground location to accomodate the ground portion of the mission. Basically, the maps were chosen well for the scenario.
Summary:  To wrap up this review I would like once again to give props to such a young man for fearlessly attempting something a lot of STO players have yet to try. The Foundry, although not extremely difficult to learn, can be a foreboding task without the patience to learn it's attributes and abilities. I have been in contact with this young man's father and spoken to him regarding his son's creation and writing this review. Needless to say, he is very proud of David, as any parent would be. Aside from a bit of guidance in map transitions, this scenario was completely written and constructed by him. His independence in the writing is evident, and although not perfect in grammer and spelling, it is advanced for his age. It is always nice to see a Star Trek fan in the younger generation, and to see one involved with the creative side of STO is extremely impressive.  I urge you to give this mission a try to support a young Foundry author and I am sure you will be impressed as I was.
Congratulations David on your mission. I look forward to seeing more of your creations in the future as you learn more about the Foundry and it's abilities. You should be proud of yourself and your accomplishment.
My Rating:  5 Stars