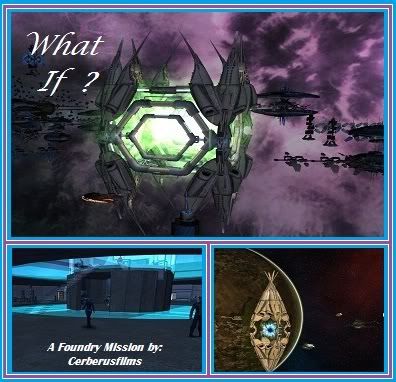 Mission Title: 

What if ?

Author: 

Cerberusfilms

Project ID: 

ST-HNU4L5NDZ

Allegiance:

Federation

Level: 

Level +31

Starting Location:  

Hathon on Bajor, Beta Ursae Sector
Author's Description:   

What if

Garaks bomb didn't go off?

What if

the Romulans discovered Sisko's deception?

What if

the Federation didn't win the war?

A Variety Pseudo-Time travel mission, with British Grammar and spelling. (and Humour)
Overview:
A very clever and enjoyable mission by the ever-talented Cerberusfilms. He brings many things into play that could have been the result of events occurring differently in and around Deep Space Nine through the use of alternate timeline.  Not only does it change a few random things around DS9, but it also envelops the entire quadrant and beyond. The mission title is perfect as you experience situations that might have been if history had recorded things differently. A well written and very interesting story.
Format:
This scenario utilizes the Foundry and its benefits very well. It is not a typical linear story and it gives you options in a good deal of cases to stray from the ordinary. Cerberusfilms has looked at the DS9 story and the Cardassian war and has given it an entire new look and placed the player under different rules than we are accustomed to in the Star Trek Universe. There is technology, humor, corruption, and conflict to experience when you play this mission. A most enjoyable journey.
Locations:
The map builds in this story are very impressive. As an author who likes to go the extra mile in creating unique environments myself, I was very, very impressed with the visuals created in this mission. Foundry authors have continued to search for new ways to create locations that are memorable with the limitations we have in the toolset. Cerberusfilms has discovered new ways to display visuals to give the mission a unique signature all his own and create extremely well built sets.
Summary:
Cerberusfilms has proven once again his abilities are most impressive. He is an extremely imaginative young man and I envy his skills in not just mission creation, but his awesome abilities in the multimedia world. For Star Trek lovers, it is always enjoyable to see what might have been if something had gone differently in the history of the Federation and the Trek universe. Cerberusfilms has given us a glimpse into one possibility of that scenario with his mission. I encourage you to try it and find out "What if ?"
My Rating:  5 Stars