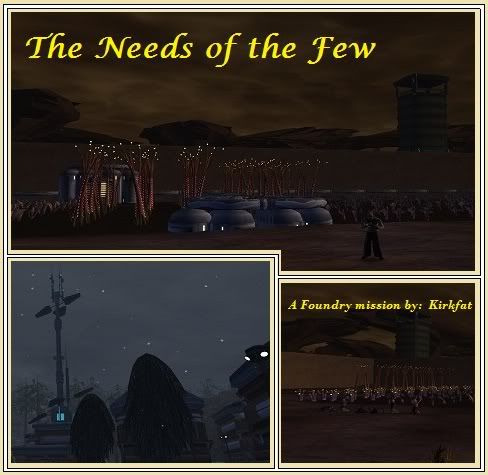 Mission Title: 

The Needs of the Few

Author: 

Kirkfat

Project ID: 

ST-HMXXUBCKU

Allegiance:

Federation

Level: 

All Levels
Author's Description:  A newly warp-capable species is in the process of applying to join the Federation.  You are tasked with exploring their world and making a recommendation to the Federation Council.

Author notes:  This is my second diplomacy mission.  There is no combat and plenty of reading involved.  In some ways, it is very similar to "The Return to Terra Nova," as far as mission mechanics go.  However, my goal was to center the mission around a choice, which I was unable to do in "The Return to Terra Nova."
Overview:
This mission is another classic diplomatic style mission by Kirkfat. As such, he is not hesitant to breach one of the more difficult subjects that has shown its face in most levels of society, both past and present. After all is said and done, the decision of how this scenario ends is up to you. Although the mission is fictional, it gives the player the experience of being able to make a choice on the final outcome.
Format:
The mechanics of this scenario are not extremely complicated, with the main intent to find yourself in the shoes of a Federation Captain tasked with making a recommendation to Starfleet on the worthiness of a new species becoming a Federation member. As you explore this society, you must not only debate your conscience, but also the Prime Directive and its application to your final decision.
Locations:
The maps in this mission fit the scenario perfectly with some very impressive builds. The somber locations truly fit the story. Without going into any great detail, you truly get to see the different aspects of this Federation candidates world.
 Summary:
If you truly enjoy experiencing all the facets of the Star Trek genre, you should include this mission in your list of "things to do". As he did on his "Return to Terra Nova" mission, Kirkfat has again shown us that the STO experience need not only be about destroying an enemy in battle and exploring unknown reaches of space. He courageously touches on a subject not far from some of the issues that plague some areas of the world today, both past and present. The only difference, even though it is fictional, is you get to decide if this world is worthy of becoming a Federation member based on your observations and study of their society. Another fine diplomatic style mission authored by Kirkfat, the master of the Foundry tutorials for which many of us are in his debt.
My Rating:  5 Stars