MISSION REVIEW : What Are Little Ferengi Made Of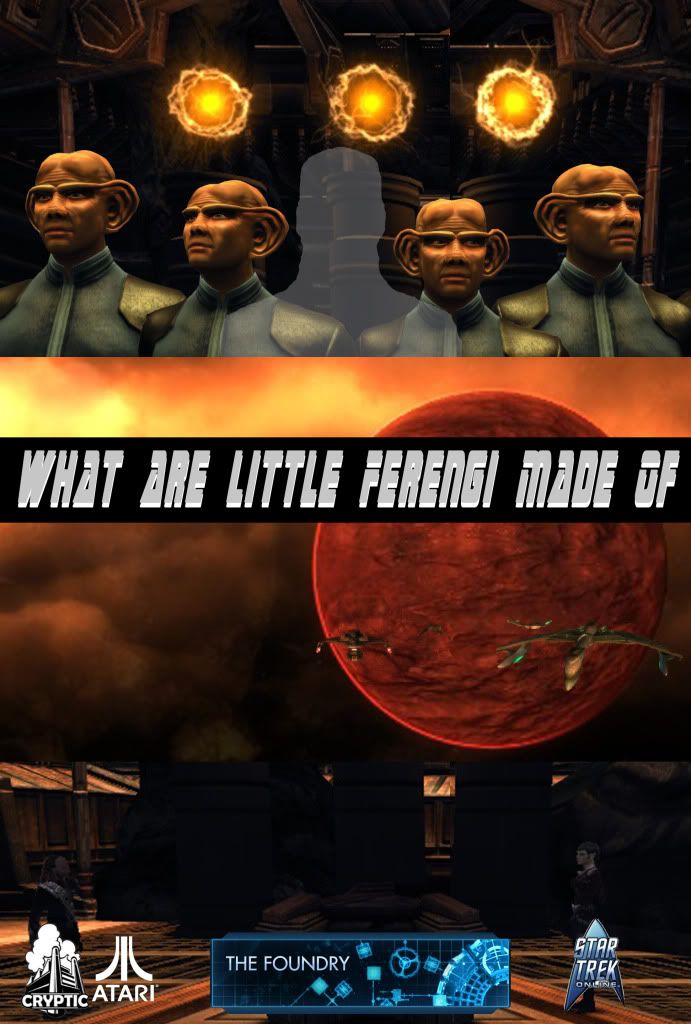 MISSION STAGE : FINAL DRAFT – Tribble
MISSION CODE : ST-TMB6GQFWV
LENGTH : 15-45min
AUTHOR : mygod_itsfullofstars
DESCRIPTION  :  On an edge of unexsplored space, a ferengi trader has discovered the fantastic technologies of a dead civilisation. Starfleet needs you to check out his claims and insure that his discoveries don't fall into the wrong hands. But from the moment you arrive, nothing is as it seems. In solving the mysteries that will confront you, be prepared to sacrifice yourself for the safety of your ship and crew, and the survival of the federation.
RATINGS OUT OF 5
Gameplay 4.5
Trek 4.5
Design 4.5
Difficulty 3
Grind 1.5
So if you haven't seen my thread FILBONES REVIEWS YOUR MISSION, you might be in a foundry hole. Or you have taken the best advice and that is to not get addicted to the STO forums. Well this is where I found this mission. Every now and again a UGC mission just blows you away. Whether it's the design, gamplay, trek ,content or straight down the line brilliant story. This is yet another one of those missions. Captivated from the first word.
If you haven't played this mission yet, get on Tribble and play it right now. I promise it is worth your time. IF this is not enough to make you want to play it, please read on…
"Other players' missions are excellent sources of ideas and inspiration, and often just plain fun." mygod_itsfullofstars
By far the most original Story on Foundry. I have come across missions with interesting aspects, but this mission has a surprise around every corner.
So if the Title is not something worth getting excited about. A Ferengi has acquired an advanced alien technology. Then maybe being worried will help. You'll soon find yourself competing against yourself, your crew, as well as Klingon's and Romulans in the Hana System. Will you survive the secrets of Hana VII?
You are asked to beam down alone. So that the Romulans and Klingons don't get the upper hand on these negotiations, you gratefully accept the invitational. Now if JJ Abrams' Trek was in my mind as cannon, maybe I would have been worried, But surely a Ferengi is trustworthy.
Wouldn't you trust this face? >>>
And yes I was warned at the academy about Ferengi, but it has always been my experience that they are reasonable.
I'm just glad the Grand Nagus is on his own side.
Anyway, so you beam down when suddenly you're awoken out of a comer by your away team. Every thing seems fine, but are they really. Maybe this Captain bumped his head harder than he thought. So yes, this is a typical TOS episode in which the Captain's character is at question, however it's done in a TNG style. If that doesn't rattle your Trek bones, nothing will. First of all the author has trodden a very slippery path. In order to do this sort of mission, the suspense must be brought up with the use of the player literally going "WTF." If you have played as many UGC Foundry Missions as I, you will know that this usually means the author is still playing with the tools and doesn't really know how to use them.
Mygod_itsfullofstars however nails it. The feeling is lost the minute you start to get a clue as to what is going on. I won't spoil it, but if you must know. Look for a similar titled TOS episode.
Ahh the Universe is safe again…
This mission review, has been clogging up my drafts for some time. Basically because it is so hard to tell you anymore without spoiling it. This mission reeks of Trek, more than any other UGC mission I have played. So get over to Tribble and play it Now.
Worth the play. If you don't, others will.