Reposted from STO:
A Splint in Time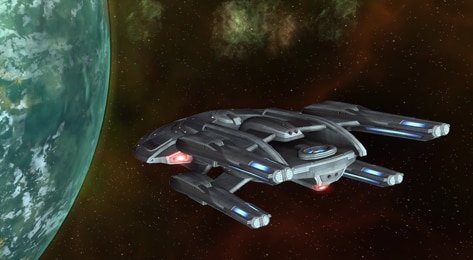 The Foundry for Star Trek Online gives players a chance to create and share their very own stories with the world. These Spotlight Missions were designed by members of the Star Trek Online community and are great playable examples of what you, too, can add to the Star Trek Online universe.
This week's spotlighted mission is "A Splint in Time" by milesredria.
Faction: Federation
Level Requirement: Any
Mission Summary: A request has been made for Starfleet's aid in repairing satellites that secretly are a part of our military operations in the Xarantine sector.
"A Splint in Time" was also one of the missions that tied for first place during Foundry Challenge #2.
To play this Foundry mission, log onto a Federation character, open your Mission Journal (J), choose the 'Available' tab from the top, and then click on the 'Community Authored' tab to the left. Once in this menu, click the arrow at the top to bring down the search function and search for "milesredria". Once the mission "A Splint in Time" by milesredria appears, click on it and press the 'Hail' button on the bottom-right of the Mission Journal to accept the mission.
For more information about the Foundry, including how to play community-authored Foundry missions and resources on how to create your own mission, check out this Guest Blog.
Foundry Spotlight Missions Index